Committed to innovation and sustainability in our operations, today we are thrilled to share a piece of news that marks a significant milestone in our journey towards a greener and more environmentally-friendly future. We are delighted to announce the installation of photovoltaic panels at our facilities.
Solar panels are an excellent way to harness the power of the sun and generate electricity. By incorporating this technology into the manufacturing process of our Gearless machines, we will gain numerous advantages, such as reducing our dependence on non-renewable energy sources and contributing to the fight against climate change.
Through this investment, we are directly contributing to the transition towards a cleaner and more efficient energy model, undoubtedly a sound commitment to sustainable development.
Furthermore, we are immensely grateful for the support received through the incentives program for self-consumption and renewable energy storage, framed within the Recovery, Transformation, and Resilience Plan, financed by the European Union's NextGenerationEU. Thanks to these programs, the use of this technology is encouraged, and a transformation towards a more sustainable and resilient economy is promoted.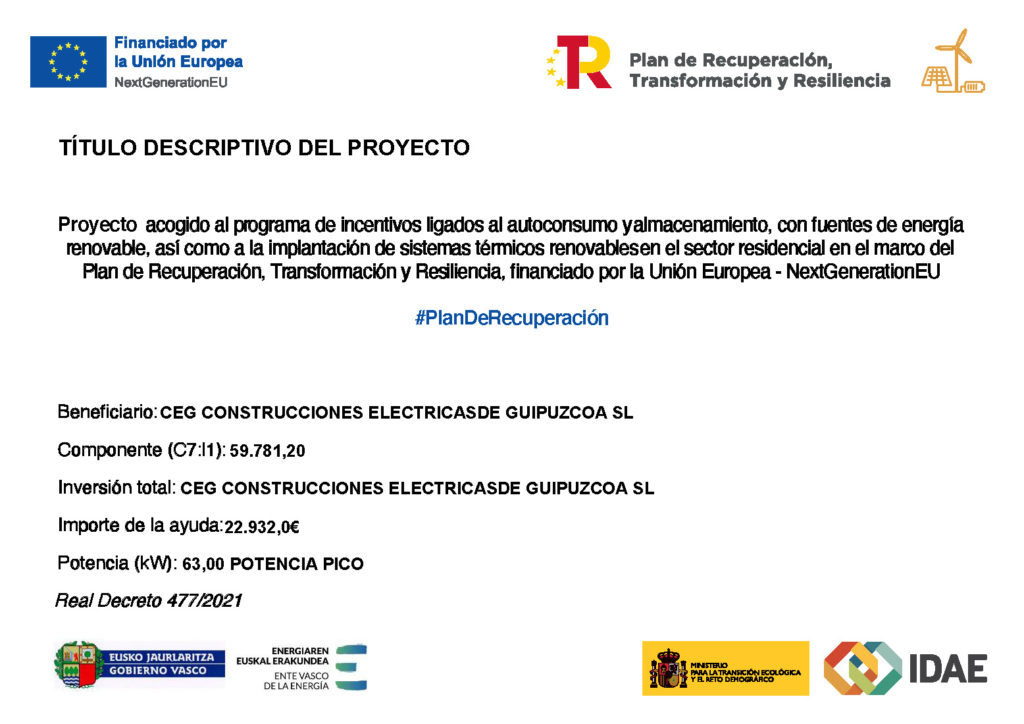 We believe that every action counts on the path towards a greener and more prosperous future. We are determined to be active participants in the transformation of the elevator industry, making our contribution to a more sustainable world. When you use our products, we want you to feel like an active part of this journey towards a greener and promising future.
Our commitment to solar energy is a testament to our unwavering dedication to innovation and sustainability. The installation of photovoltaic panels at our facilities propels us towards a cleaner and more environmentally-respectful future. We extend our gratitude to the European Union and governmental administrations for their support, and we will continue to work with passion and dedication to achieve our sustainability goals, contributing to the well-being of our community and the planet as a whole. Together, we can create a lasting positive impact and make the world a better place for future generations.